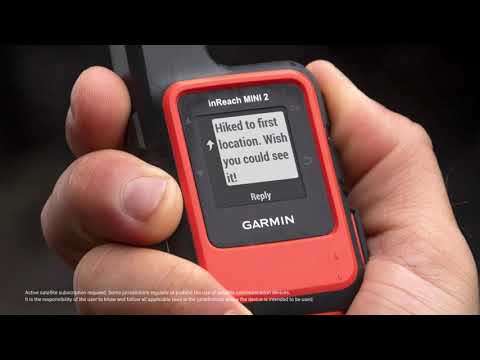 Product Information
Garmin InReach Mini is the small, palm-sized satellite communicator that lets you stay in touch around the world. It provides 100% global Iridium network two-way messaging and interactive SOS plus basic navigation. Wireless connectivity lets you remotely sync to send/receive messages using compatible Garmin handhelds, wearables or other mobile devices. Online location tracking with the Earthmate app lets you share your whereabouts with friends or loved ones at home. Optional weather forecasts help you prepare for what's ahead. Pair with select smart devices and Garmin handheld units to access topographic maps, aerial imagery and other advanced features. The Earthmate app syncs with your smartphone contacts to make staying in touch even easier.
Global satellite coverage keeps you connected when mobile phones cant.
Pocket-Size Communicator: Small, rugged, lightweight device enables two-way text messaging with 100% global Iridium satellite coverage.
Ultra Rugged: MIL-STD-810-G tested for shock and thermal impact.
Interactive SOS: Trigger an interactive SOS to the 24/7 GEOS search and rescue monitoring centre .
Wireless Unit-to-unit Connectivity: Send and receive inReach messages through compatible Garmin devices.
Location Tracking and Sharing: Track and Shar your location with family and friends.
Review data on mobile device.
Great Variability: Offer various mounting options.
Get Wheather Wherever: Optional inReach weather forecast service provides detailed updates directly to your inReach Mini or paired device.
Battery Performance: Internal, rechargeable lithium battery provides up to 50 hours of battery life in 10-minute tracking mode.
Water Rating: Rugged, impact resistant and water-rated to IPX7.
Please allow 2-5 business days for delivery
Transact securely with multiple payment options