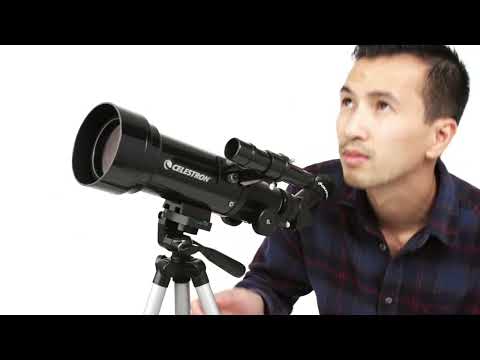 Product Information
The Travel Scope 70 is a refractor telescope perfect for terrestrial and celestial viewing on the go. The Travel Scope can view the planets, moon, star clusters and brighter deep sky objects like the Orion Nebula and Andromeda Galaxy at night and with the erect image star diagonal makes the optical tube ideal for using as a spotting scope during the day. Setting up the telescope is a breeze and will have you observing in no time. Even on your first time out, you can assemble the telescope and its accessories in just a few minutes. The adjustable tripod legs allow you to customize the telescopes height or place it on raised surfaces like a picnic table. The total telescope kit weighs in at just 3.3 pounds perfect for impromptu observing sessions or transporting wherever lifes adventures take you.
Optical Design: Refractor
Aperture:70mm (2.8")
Focal Length: 400mm (15.74")
Focal Ratio: f/5.7
Focal Length of Eyepiece 1: 20mm (0.78")
Magnification of Eyepiece 1: 20x
Magnification of Eyepiece 2: 40x
Finderscope: 5x24
Highest Useful Magnification: 168x
Lowest Useful Magnification: 10x
Limiting Stellar Magnitude:11.7
Resolution (Rayleigh): 1.98 arc seconds
Resolution Dawes: 1.66 arc seconds
Light Gathering Power (Compared to human eye): x 100
Total Kit Weight: 1.5 kg
Warranty: 2 years
A custom travel backpack comes with your telescope for you to store your telescope.
Please allow 2-5 business days for delivery
Transact securely with multiple payment options