Hiking Safety and Emergency Checklist - 5 Steps to Staying Safe On Your Next Outdoor Hiking Adventure
Enjoy South Africa's beautiful hiking routes and trails safely with our useful guide, emergency checklist and numbers to ensure you are properly prepared for an outdoor adventure.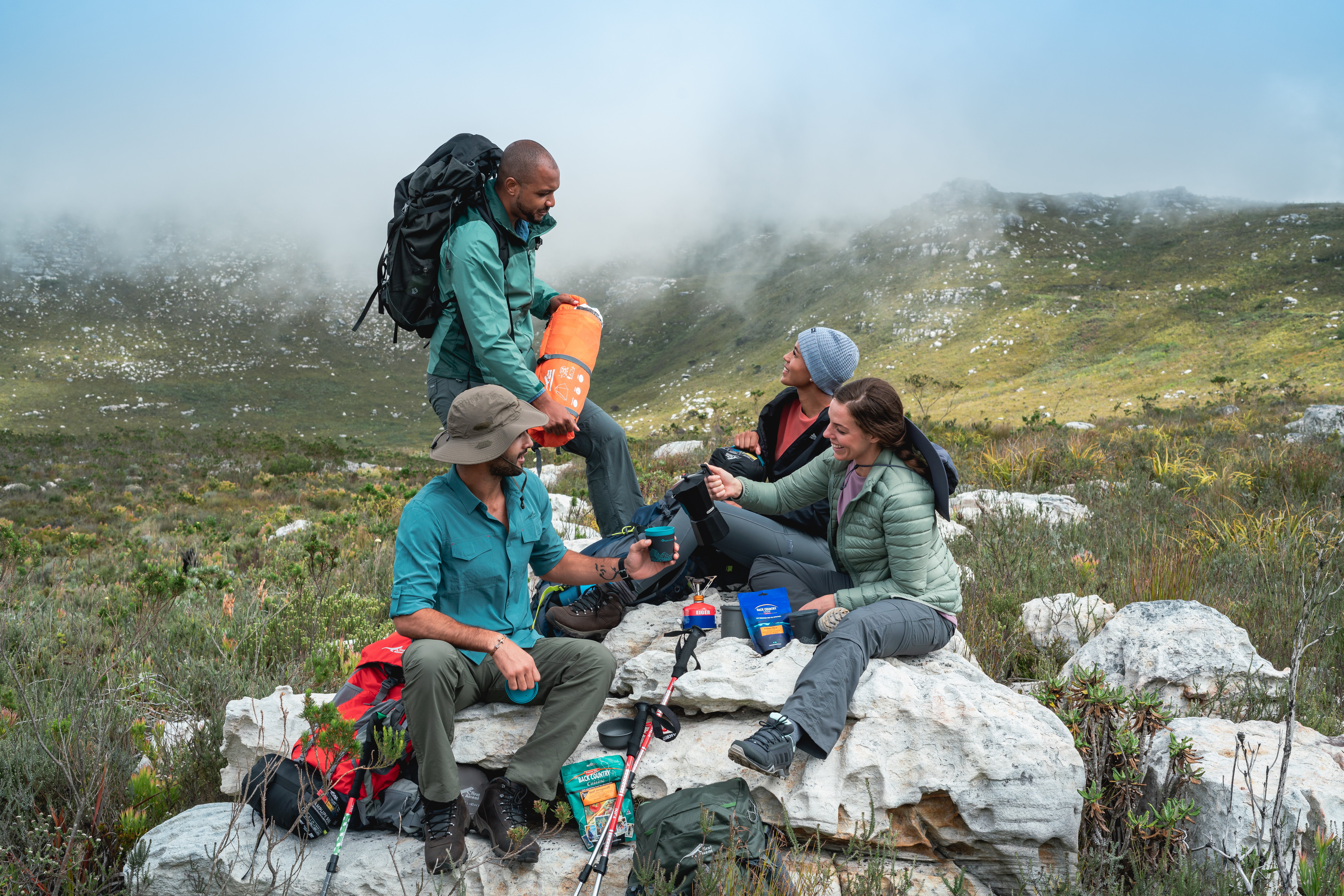 South Africa has some of the most beautiful hiking trails and routes in the world - especially with our diverse climates, mountains, beaches and wildlife. When planning any hike or outdoor adventure, it is most important to ensure you are well-prepared so you can do so safely and responsibly.

We've compiled the following 5 Key Safety Steps, Emergency Checklist and Contact Numbers to help make sure you are prepared and ready to head out and explore our beautiful hiking routes and adventures.
5 KEY SAFETY STEPS
1. AVOID HIKING ALONE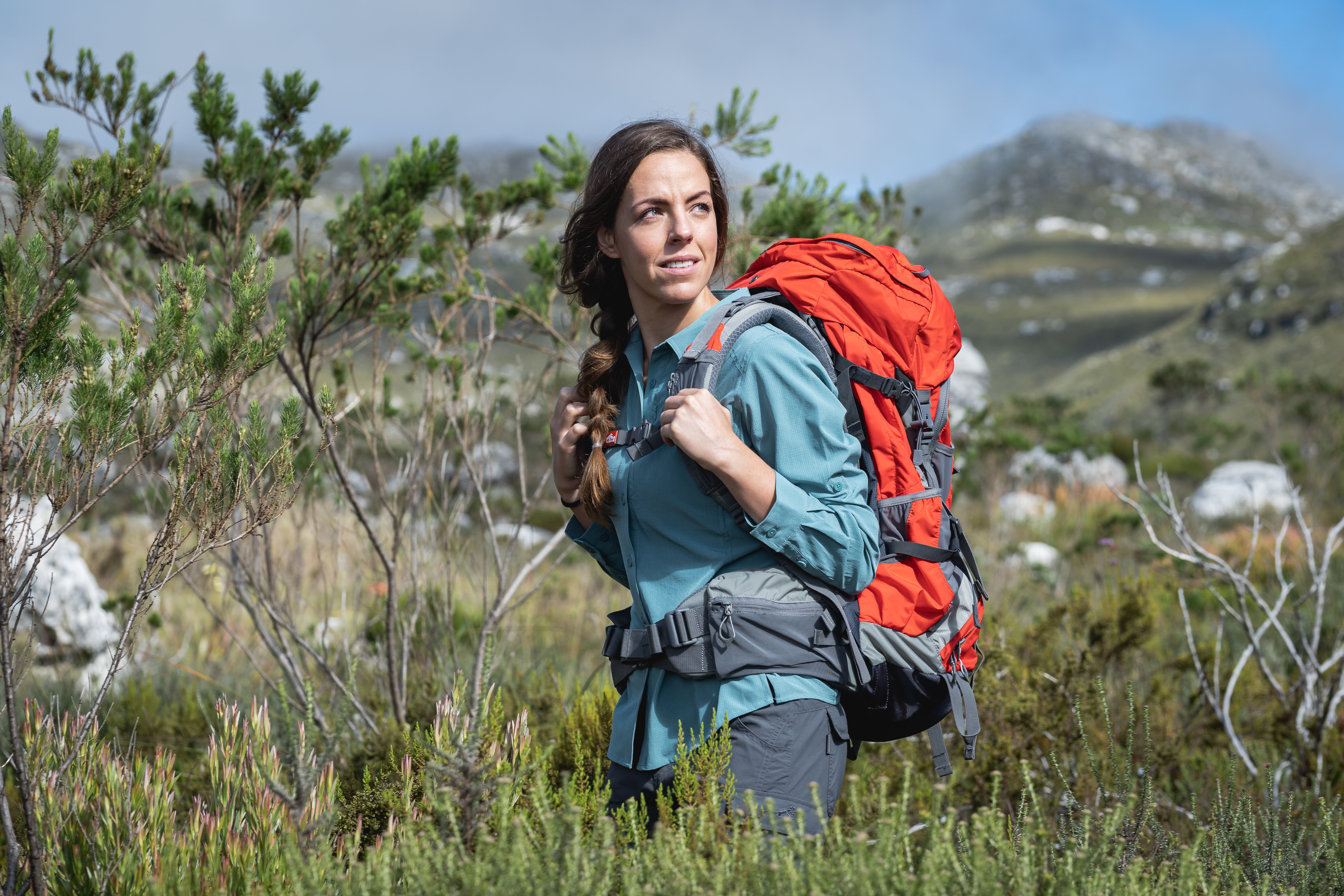 You are always safer when exploring in a group - especially in case something unexpected happens or in case of emergencies. Hiking in groups helps you to be more prepared.

It is vital to make sure that your hiking group sticks together and you never leave anyone behind - ensuring that your group follows the pace of the slowest members in your group. Always ensure you have regular check-ins and end your adventure by grouping together.

Besides working together on the trails or hiking routes - it is also important that you inform family or friends about your planned adventure - as well as expected times of departure and arrival. For more advanced hiking or outdoor adventures, it is necessary to ensure that both your group and your other contacts are aware of potential hazards as well as discuss what to do in case of emergencies.

Also, remember to share the trails with all other users. General etiquette for hiking routes is that bike riders yield to hikers. However, for all people enjoying the trail - those travelling downhill should yield to those heading uphill.

Expert Tips:

2. PLAN AND PREPARE AHEAD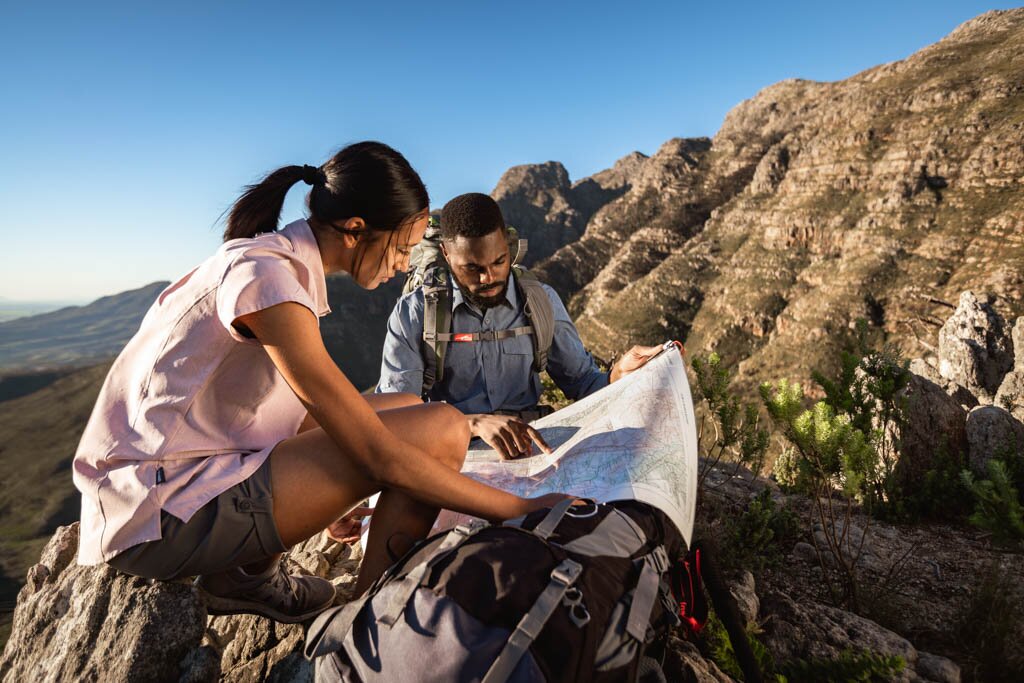 Research and get to know the route, trail or activity you are planning well ahead of time. Make sure you consult any available (and up-to-date) maps and other important information regarding the specific route, as well as the terrain and conditions expected.

Expert Gear Advice: Invest in a reliable GPS unit so that you can stay on course and keep track of your trip
Always check forecasted weather conditions for your trip and find out about any unpredictable weather that may occur. Make sure you are equipped for the bad weather conditions as forecasts are never 100% reliable.

Expert Gear Advice: You can stay ahead of the weather using a dedicated and portable weather forecasting unit
Ensure you have all the necessary equipment, gear and emergency contact numbers for the activity or hike you are planning. It is always better to be over-prepared and to pack spare items where possible. Find the full checklist of emergency equipment and contact numbers at the bottom of this page.


3. MAKE SURE YOU HAVE THE CORRECT GEAR AND ESSENTIAL EMERGENCY EQUIPMENT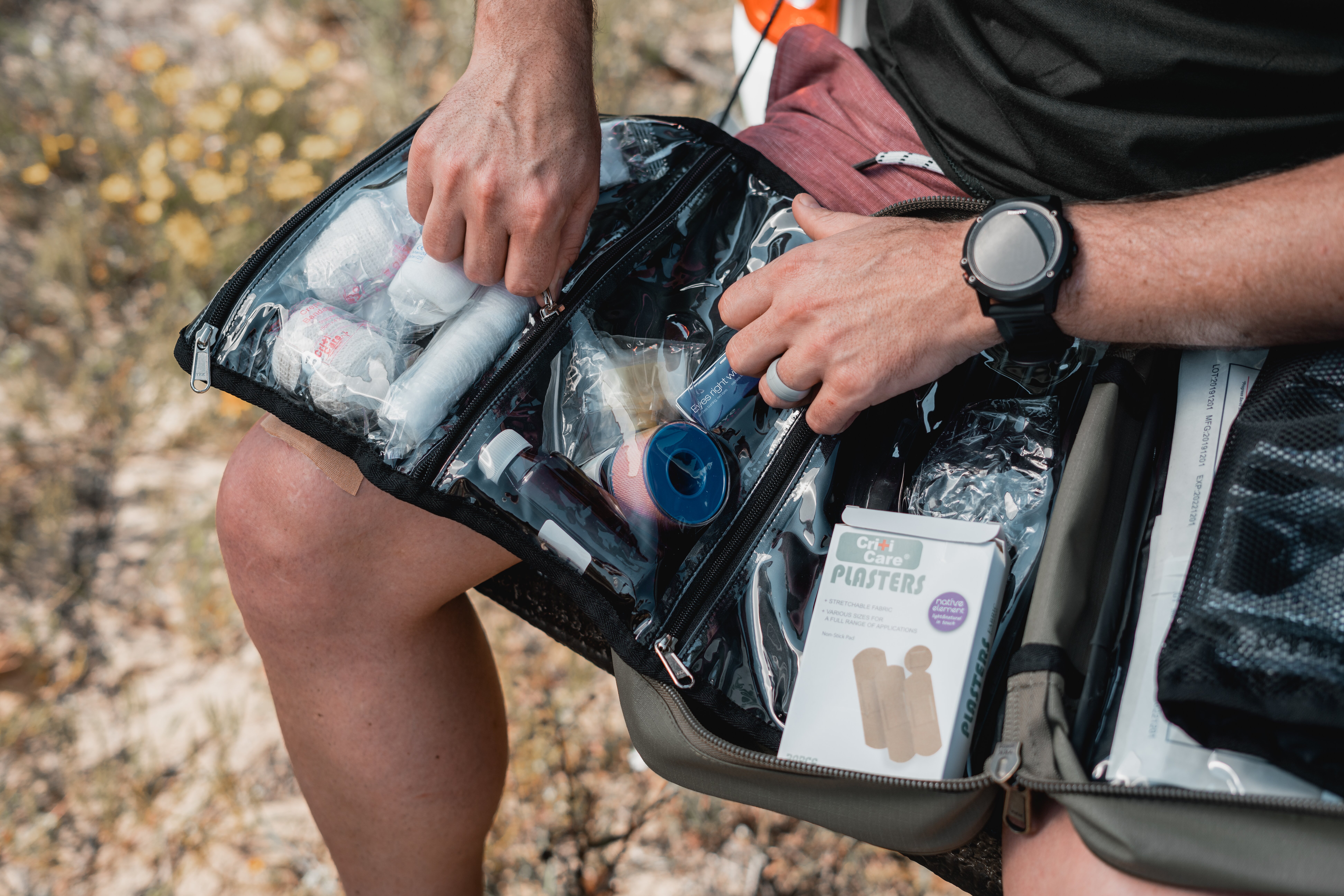 Making sure you are well prepared for the adventure, hike or trail you are planning is a vital part of hiking or outdoor safety. Different areas, terrains or times of the year all can change what equipment you will need to take with you. It is always advised to be over-equipped and prepared for any type of emergency or unforeseen event.
Our in-store experts are there to help you with advice and choose the correct gear you will need - click here to find your nearest store.


Whatever adventure you have planned, there are 10 essential categories of gear you should always have with you to be prepared for any situation.


1) Navigation
2) UV Protection

Sun protection is always vital - even when there is cloudy weather or during winter. Make sure you have enough sunblock, a good hat and sunglasses to help keep your eyes protected as well. Shop our wide selection of sun protection solutions here.

Shop our wide selection of sun protection solutions here.



3) Appropriate Insulation

Depending on where you are going - or how long you will be on your adventure - it is always important to make sure you have the right types of insulation to stay warm, especially if there is unpredictable weather. Make sure you think about packing in base layers, the right type of jacket, waterproofing covers, or the correct camping tents and sleeping bags for overnight getaways.



4) Illumination & Lighting

Illumination is vital - especially if you end up taking longer than expected or find yourself in the dark. Always have a source of light, such as headlamps or torches, as well as ensuring they are charged or packing spare batteries is always suggested.



5) First Aid Kits

First Aid is always a key requirement for safety while hiking outdoors. The top tip is to make sure you know what is inside your first aid kit and how to use the items correctly. Sometimes you may need to add extra items to your kit - like specific medications, extra sanitizing products or spare bandages.



6) Adequate Hydration

Water is your most vital accessory and staying hydrated is the most important part of outdoor safety. Invest in a good, durable water bottle, and always take spare water with you - especially if you are unsure if there are no spots to refill along the route. For complete safety, it is suggested to include items like water purification straws or tablets in case you find yourself without a reliable water source.



7) Nutrition

The right nutrition and hiking snacks will depend on how long and far you plan to travel - but a rule of thumb is to always have at least enough nutrition for one extra day. Always try to pack more snacks and food than you usually consume, especially on tougher routes and hikes.



8) Fire starting tools
9) Repair kits or accessories

Having the necessary tools for doing quick gear-repairs on-the-go can make a huge difference to comfort and to avoid injuries. There is nothing worse than having a backpack strap break - or having your insulation or apparel torn. The most ideal option would be to always include a multi-purpose tool - but including simple thread and needle kits can also make a huge difference to your comfort if something breaks.



10) Emergency Blanket

Emergency Blankets are a fundamental tool in the event of any emergency and can often be life-saving in worst-case scenarios. They also have plenty of other uses and functions in various situations - and are a light-weight item to easily pack into your bag.
Pro-Tip: Although not a safety fundamental item - a spare pair of socks is a fantastic extra to include on your next hike! Wet socks and feet can easily lead to blisters and make your hike much tougher!




4. STAY ALERT AND AWARE ON YOUR ADVENTURE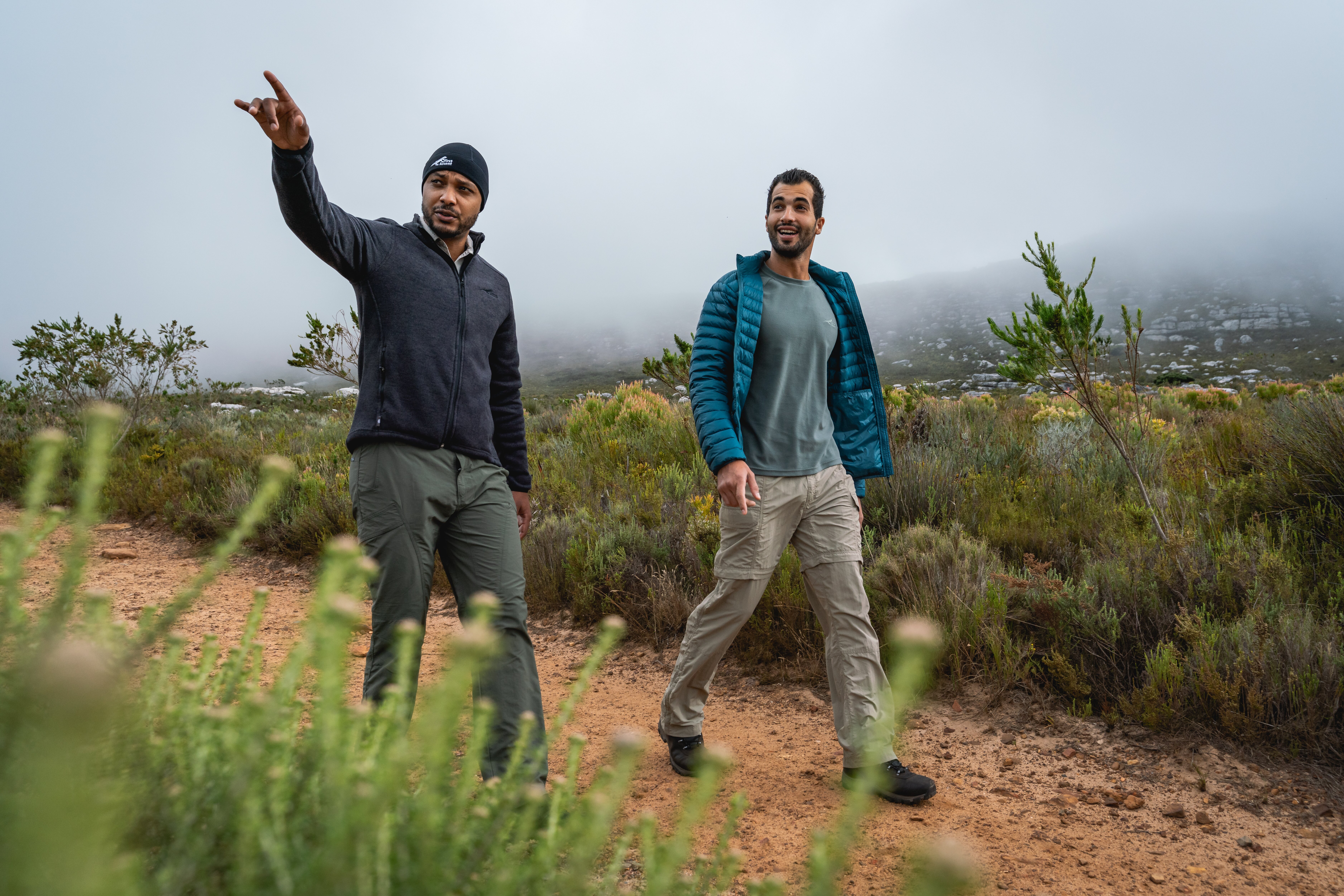 Even if you are well prepared and have all the correct equipment - it is also vital to make sure you stay alert during your hike. It is important to know about any potential dangers you may encounter and how to avoid them.
Although being alert will depend on where or what activity you are planning, the most common hazards to be aware of during any outdoor expedition are:


Avoid getting lost by knowing the planned route well. It is highly suggested to equip each member of the group with signal whistles in case anyone goes missing.


Accounting for dangerous weather and terrain conditions, such as unexpected storms, high mountain ranges or hazardous trail-routes. Be aware of potential medical incidents and how to act accordingly. It is important to know about any members of your group who may have specific medical conditions to take into account.


Be aware of potential crime and how to act accordingly. It is suggested to always equip yourself with pepper spray for any dangerous situations.



5. WHAT TO DO IN AN EMERGENCY AND CONTACT NUMBERS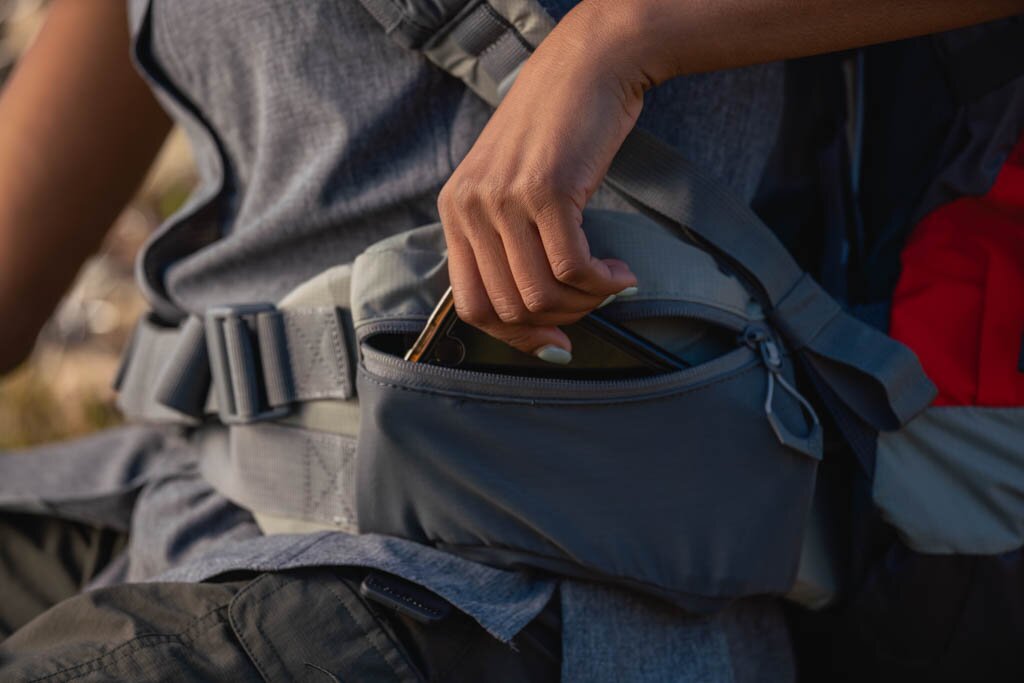 Every serious emergency situation will always be different and there is never one specific way to respond perfectly. This is why it is always best to prepare and avoid emergencies at all costs - however, if something unfortunate does happen, it is important to act fast and appropriately. Do not always assume that you will be rescued - which is why you should always know the steps to take to rescue yourself if necessary.


If you find yourself in an emergency - it is important to remember the useful acronym: S.T.O.P (Stop, Think, Observe, Plan) as this can help avoid panic and allow you to proceed correctly. It is advised to not leave injured group members alone, and always first contact emergency services before acting.



NUMBER FOR ANY EMERGENCY
For any emergency - this should be the first number to remember and use. This is South Africa's equivalent to '911', and although it may not be as direct as other emergency contact numbers - it is an easy three-digit code you must remember in any traumatic situation.


EMERGENCY NUMBER FOR THE POLICE
To a crime – ongoing or otherwise – this is the number to use to contact the police services. Stay on the line and give and try to provide as much detail as possible and wait until the police have been dispatched before ending the call.
NUMBER FOR AN AMBULANCE OR THE FIRE DEPARTMENT
This is a non-crime related number and should only be used if there is a medical accident or fire specifically.


MOUNTAIN RESCUE NUMBERS
Different mountain ranges will have different numbers to use - so it is always important to check what the suggested emergency number is for that particular route.

For the most popular hiking routes in South Africa, you can refer to the below numbers according to which province you are:

NSRI EMERGENCY OPERATION CENTRE (eoC)
For any emergency or incident that requires sea rescue services, it is suggested to contact the NSRI who are equipped to respond quickly to ocean-related emergencies

POISON EMERGENCY NUMBERS IN SOUTH AFRICA

If you are experiencing a serious animal bite, a severe allergic reaction or anything that can be classed as poisonous, it is suggested to use the national poison emergency number (Red Cross). Or you can also contact a local poison service if you are in a specific area.

If you are bitten - try to identify details or photograph the animal, (as long as it is safe to do so), as this can help emergency services to respond faster.


PRIVATE EMERGENCY CONTACT NUMbers
Although it is suggested to always use the national emergency numbers first - it is also suggested that you have the following private emergency numbers saved as they are equipped and will respond appropriately to emergencies. It is also advisable to consult with any medical aid schemes you are a member of to ensure you have the correct information to use for your emergency.

NETCARE 911 EMERGENCY CONTACT
ER24 EMERGENCY CONTACT
HELPFUL NUMBERS FOR DEPRESSION, SUICIDE OR MENTAL HEALTH EMERGENCIES
HIKING SAFETY CHECKLIST
| | |
| --- | --- |
| General Protection | Cell Phone & Power Bank, Safety Whistle, Pepper Spray |
| Navigation | Maps, GPS Units, Compass |
| Illumination | Headlamp, Torch or Lantern |
| Insulation | Jackets, Base layers, Tents, Sleeping bags |
| First Aid | First Aid Kits, Specific medication, Insect Repellents |
| UV Protection | Sunblock, Sun Hats, Sunglasses |
| Hydration | Water Bottles, Water Purification tools |
| Nutrition | Snacks, Meals and extra supplies |
| Fire Starting Tools | Waterproof Matches, fire-starting kits |
| Repair Tools | Multi-purpose tool, needle & thread. |
| Emergency Blankets / Extras | Emergency blankets, waterproof covers, spare socks/clothes, ropes & tie-downs. |
ESSENTIAL EMERGENCY PHONE NUMBERS
| | |
| --- | --- |
| Number for any emergency | 112 |
| Emergency number for the police | 10111 |
| Ambulance or Fire department | 10177 |
| Mountain Rescue: | 031 307 7744 |
| NSRI Emergency Operations/ Sea Rescue | 087 094 9774  |
| Poison Emergency (Nation-Wide Red Cross Hotline) | 021 689 5227 |
| Netcare 911 | 082 911 |
| ER24 Emergency | 084 124 |
| Mental Health Emergency Lifeline | 086 132 2322 |