The versatile COBB cooker - Everything you need to know
The compact, portable COBB is the ideal cooking companion for any outdoor chef. Prepare delicious food anywhere with this versatile cooker that's a perfect fit - from the campsite to the beach, park or boat.
WHAT IS THE COBB?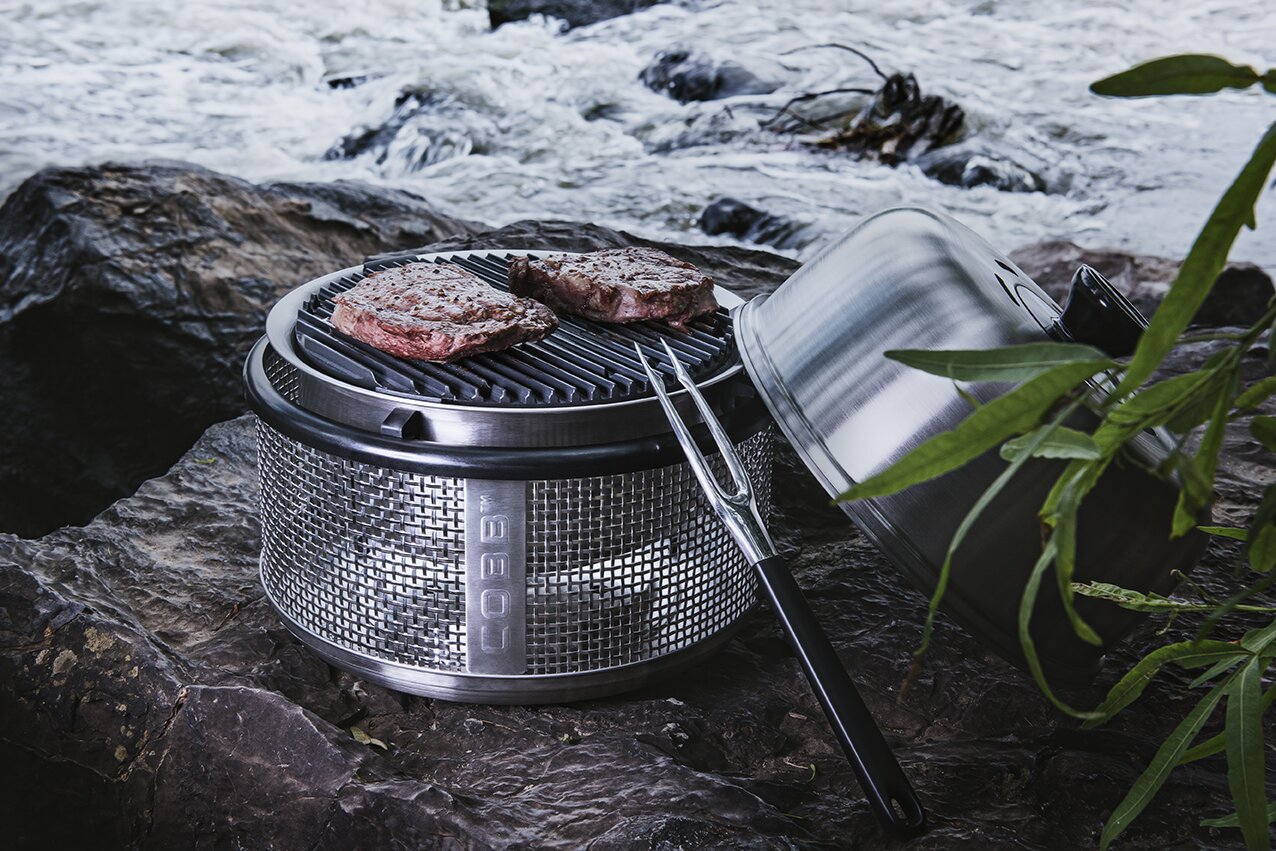 The COBB is a compact, portable and versatile cooker that's the perfect cooking companion for any outdoor enthusiast or a home entertainer.
This energy-efficient cooker is the ideal gear choice to prepare anything, anywhere, anytime! Designed to travel with you and fit perfectly into your life, from picnics to camping trips to cooking at home in your garden or on your balcony, the COBB will be the sous chef you need.
Grilling, baking, roasting, frying and smoking - the various optional COBB accessories extend the possibilities on your COBB for a wide range of cooking styles wherever you go.
The COBB simply works off Cobblestone or charcoal briquettes. The cooker can reach a cooking temperature of up to 300 degrees and allows you a cooking time of up to 2 hours on 1x Cobblestone. After cooking you simply lift the removable fire basket and dump the cooled ashes.
All parts of the COBB are dishwasher safe making it easy to clean.
Everything about the COBB is easy and simple to use! You wont believe the cooking capabilities of this guy until you experience it for yourself!


THE 5 ELEMENTS/Parts THAT MAKE UP A COBB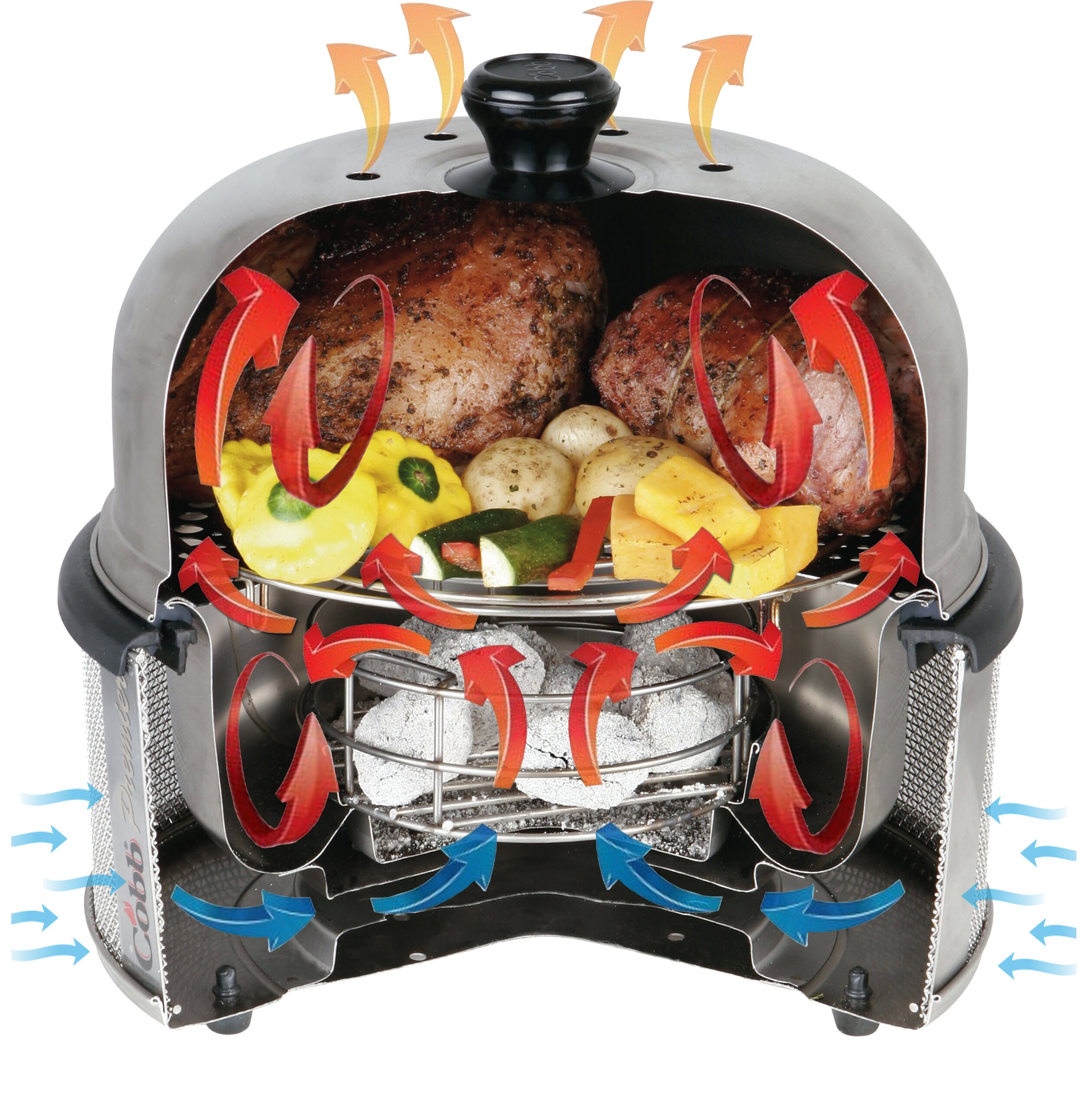 Dome made with stainless steel and it has a heat-resistant handle. The holes in the Dome ensure even ventilation throughout the cooking process creating an oven effect.
Grill Grid with an easy-to-clean Teflon® non-stick coating. Excess fat drains away through the holes and into the moat.
Fire Grid - A secured area for the Cobble Stone or loose briquettes. 
Stainless steel moat that catches all excess fat. The moat can also be used for cooking vegetables.
Base with anti-slip rubber feet, the base remains stable and cool to touch.


HOW THE COBB WORKS
Depending on what you are preparing you can either cook with the dome lid or without it. The dome essentially allows for convectional cooking, with vents for circulation. The dome lid also ensures energy efficiency, as very little heat is lost. 
When cooking with your COBB dome lid off, you're grilling your way to a unique barbecue experience. 



HOW TO fire up your cobb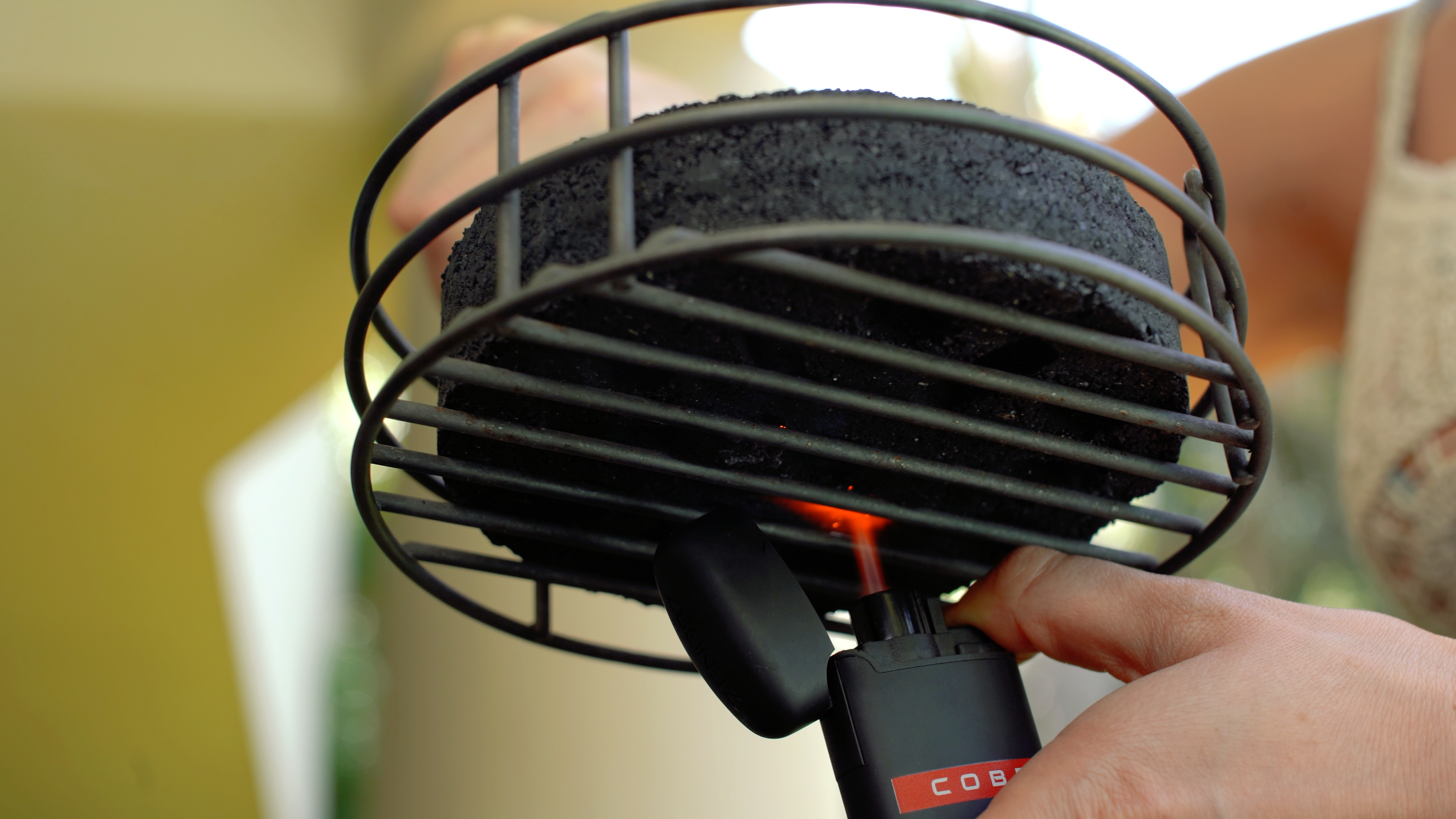 1. Quick fire-up with CobbleStone™
COBB carries its own range of fuel called the CobbleStone™. Each of the smoke-free CobbleStone™ fuel units are hot and ready to cook in approximately 5 minutes and with a cooking time of up to 2 hours when used in the COBB. Made from coconut shell, the CobbleStone™ is a sustainable and renewable resource. With its built-in fire lighter, it becomes safe to use while burning hotter and longer than conventional charcoal.
The CobbleStone™ is packaged in a box of 6, each weighing approximately 400 grams.
Each CobbleStone™ provides a minimum of 2 hours of cooking time. And within 5 minutes, the CobbleStone™ will be fully ignited, smoke-free and ready to cook on.
Safe and economical
Built-in firelighter
Made from coconut shell
Burns hotter and longer than conventional wood charcoal
Half a CobbleStone™ can be used for baking as the temperature is not as hot.


2. Or choose briquettes
You can also use charcoal briquettes instead of the CobbleStone™. Guidelines based on good quality briquettes: 8-10 briquettes (equal to 1 CobbleStone™) for large pieces of meat, grilling or frying, 6-8 briquettes for smaller pieces of meat and fish, 4-6 briquettes for baking and slow cooking such as roasting and smoking.




4 Must-Have COBB Products available at Outdoor Warehouse