How to choose the right spotlight for the outdoors
A good spotlight is considered an essential outdoor gear item, especially when camping or game-viewing at night. Read below to see what to look out for when buying the right spotlight for your next adventure.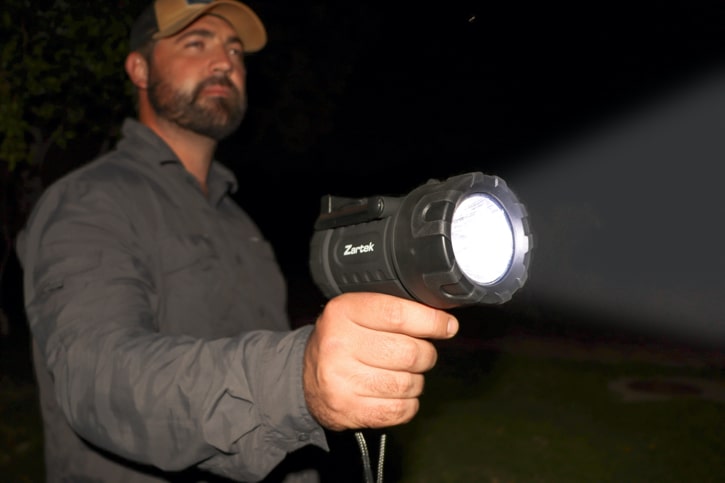 Spotlights are the perfect gear companions for a variety of outdoor adventures, especially when camping, fishing or game-viewing at night. Headlamps remain a popular choice, however, spotlights provide exclusive features that are key for a handheld device. Especially when you need the strongest portable beam of light available and the task at hand demands precision and control.
LED lighting technology is perfect for rechargeable spotlights and the durable bulb provide sufficient, intense light while using less battery power. LED spotlights are generally smaller, lighter and withstand shock better than their halogen counterparts. Choosing a durable casing is important for outdoor use.

There are quite a few important things to look out for when buying the right flashlight or spotlight for your needs and these include:
Lumens
Beam distance (in metres)
Extras
Lighting Modes
Weight
Hours High Bean
Hours Recharge
1. Lumens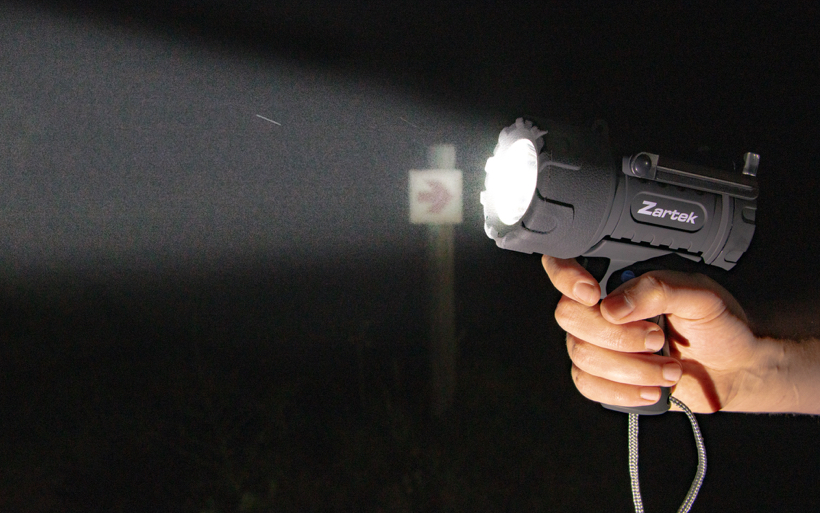 Lumens measure the intensity of the light coming from the spotlight, considering it's the highest brightness setting powered by new batteries. Remember that lumens aren't the only indicator of brightness. Beam intensity, distance and type all have an influence on the intensity of the light. So make sure you consider other factors too. 
Again, ensure to choose the lumens according to the activity the spotlight is used for. From lower intensity indoor camping usage to powerful light for night-time game viewing. 

2. Beam Distance
This is measured in meters and is an indication of how far the light will shine before it diminishes. This distance is dependant on the brightness setting on your spotlight. Interestingly full moon illumination is considered adequate for safe and careful travel outdoors and beam intensity is measured from where it diminishes to match that of full moonlight. 


3. Extras
Does your spotlight come with value-added extras like a detachable red lens, a built-in red swivel lense or a drawstring carry-bag? Be sure to look out for extras that make you spotlight purchase a valuable one. 


4. Lighting Modes
Does your spotlight have multiple lighting modes to suit your needs? This can include high beam, low beam and strobe mode and gives you flexibility in terms of usage for different outdoor environments and activities. Choose wisely before you buy. 

5. Weight
This comes down to personal preference. A lightweight choice for frequent use and easy carry-on is smart, but you might need a heavier feel for control of the light. Remember, that a larger unit does not necessarily mean it's brighter, but it might have a longer run time due to a larger battery. 

6. Hours High Beam
High Beam lighting mode means a shorter running time due to demand on the battery. If you need high beam intense light for longer periods at a time, ensure to look out for the hours specified before purchasing your spotlight.


7. Hours to Recharge
When choosing your next spotlight, keep the recharging time in mind especially if you cannot afford longer charging times. Hours can vary from 3 to 7 hours depending on the model you buy. 

See our full range of Zartek Spotlights here. View all Lighting on Outdoor Warehouse.