A Guide For The Ultimate Potjie: Sizing, Cleaning & Caring And Cooking
A traditional potjie makes for the perfect, versatile outdoor meal. Use our expert guide and tips below to choose the perfect size when you purchase, clean and care for your potjie and learn to master cooking temperatures and pressure.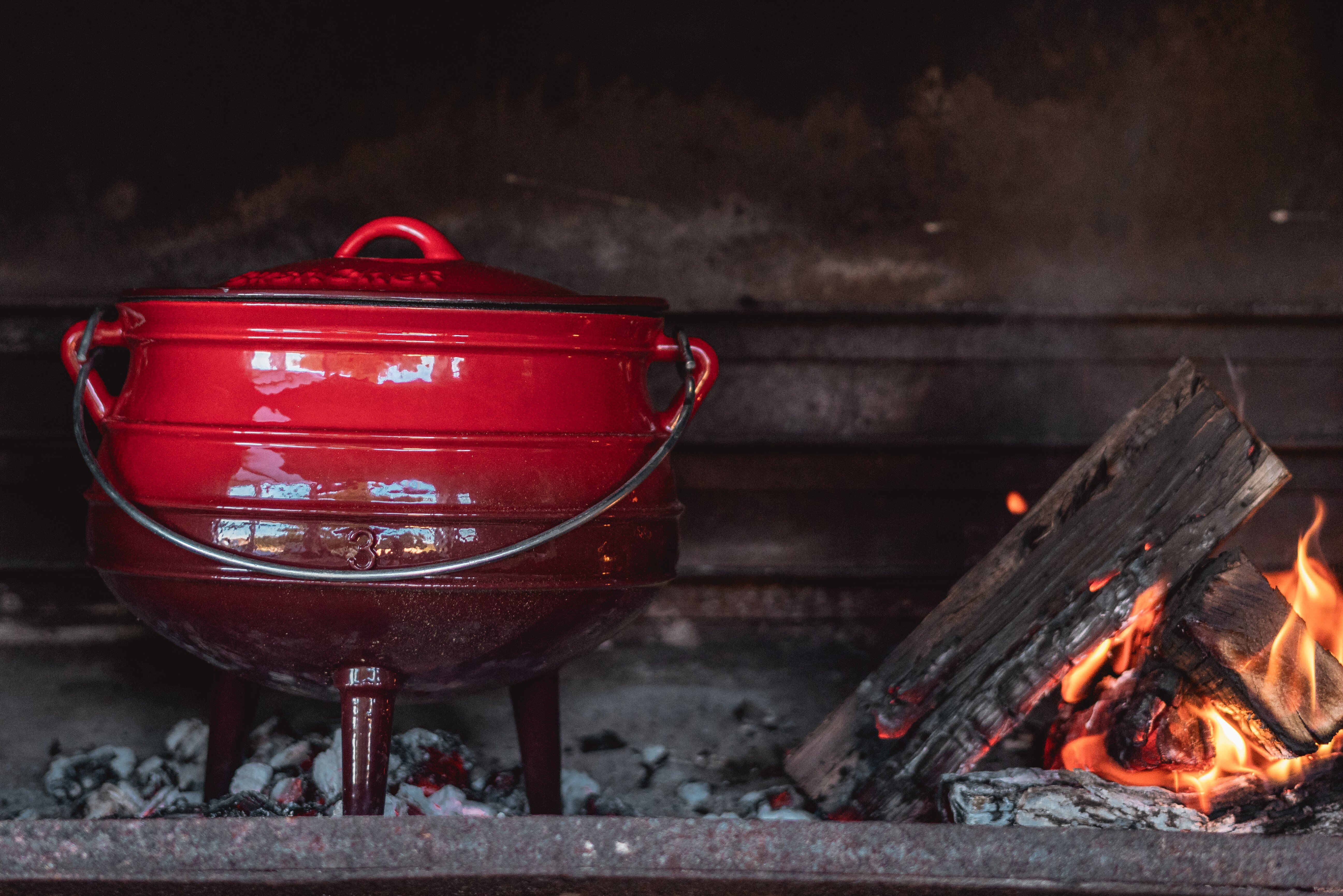 Whether you are going on a camping trip - or just adding some variety to your weekend braais, traditional potjies are fantastic for many different uses. Compared to the usual indoor cooking pots - potjies are affordable, extremely durable and are perfect for feeding large groups with minimal work and effort.

How to choose the perfect size & style potjie

Different potjie sizes
Different brands and models can have their own sizing guides when it comes to potjies - but these cooking utensils come in plenty of sizes so that you can feed a family of 4 or a group of 25.
Expert tip: Count the rings

Another great tip to know is that the number of rings on a traditional potjie pot, when multiplied by the size of your potjie will roughly equal the number of servings it can make. For example, if you have a Size 3 pot that has 4 rings around it - you should be able to cook roughly 12 servings for your guests.

Here is a rough outline of potjie sizes - but it is always important to find out the exact manufactures' sizing guide or dimensions.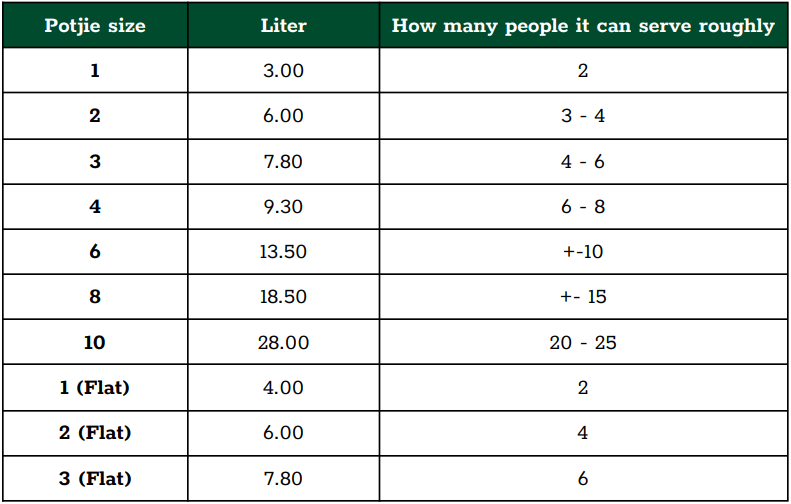 Even better - ask one of our in-store experts to help you make the best choice


These sizes can vary from brand-to-brand, depending on the width and depth of their specific pots - so always make sure to speak with an expert and find out about the different brands and tools available.

The number of servings will also of course depend on how hungry your guests are, how many side dishes you are making and what types of meat or vegetables you use. But generally speaking - you can use the sizes above to help you plan which pot to buy and to help you prepare your meals ahead of time.

Flat bottom potjies vs 3 leg potjies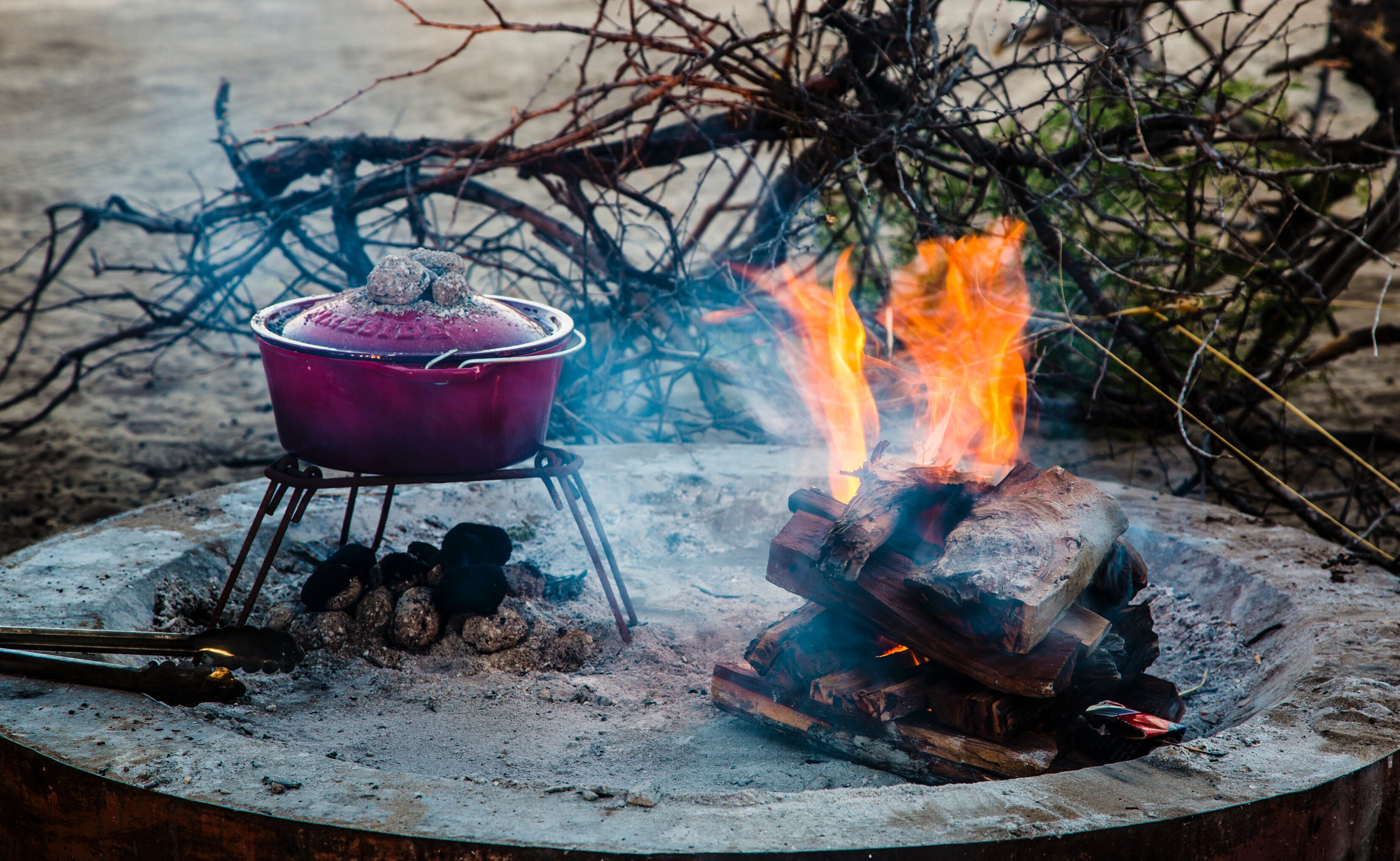 The two main types of potjie pots you will find are the traditional 3-leg potjie or the flat-bottomed pot (also commonly known as a 'dutch-oven'). Both are great tools to have for cooking outdoors or camping trips and which one you are using will depend on your preferred style of braaing or cooking.

The difference? Generally, your flat-bottomed potjie pot is more useful when cooking on a gas-cooker or a flat braai surface; while your 3-legged potjie pot is the traditional one that can be placed directly onto your coals.

There are also other ways to use both these pots however and you can always find new, creative recipes to try and cook with them. If you need to boil some water, make pasta or even deserts - potjies are great as they can be used for whatever your outdoor kitchen needs.
How to clean & care for your potjie


Enamel, cast-iron and pre-cured potjie pots all have different methods of correctly preparing them when you first buy one - as well as how to best clean your specific potjie of choice.
It is always very important to clean and care for your potjie pot correctly - especially when you first purchase this great camping item. When done so correctly, these great cooking tools will last you for many braais and outdoor adventures for years to come. Depending on which type of potjie you choose to buy, the method to correctly season and prepare it for the first time is very important
Please note: You must always follow the manufacturer's guidelines for the potjie you buy as incorrectly preparing, cleaning and storing your potjie can cause damage over time.


Cleaning and storing your potjie correctly is extremely important.


There are many different tips, tricks and special secrets that braai enthusiasts will often suggest as being the 'best' method for cleaning your potjie. Cleaning and storing your pot well is very important to prevent them from developing rust over time or adding unwanted flavour to your future braais and dishes.
While there is not one specific method that will work best on all pots - it is important to always find out what the right method is from the manufacturer of the specific potjie you have chosen - or asking one of our in-store experts to explain why different pots can be cleaned in different ways.

Some potjie products have been created to allow for easier cleaning, while others develop seasoning over time which can add amazing flavour to your product in the long term - but can also cause unwanted flavours when not cared for correctly.

The best way to store your pot over time is with a proper potjie cover - which helps keep your pot protected, out of direct sunlight and also far easier for packing and carrying on your outdoor adventures.



The best way to clean and store your potjie


"For first-time use, wash the inside of your potjie with a mixture of dishwashing liquid and boiling hot water. Coat the inside of the potjie with cooking oil and heat it until the oil begins to smoke. Then wipe clean with a paper towel. Your potjie is ready to cook.
To store your potjie, thoroughly wash and dry it. Use cooking oil or LK's multi-purpose potjie care and protect, to coat the inside and out of the pot. Fill your potjie with scrunched-up newspaper to help absorb any moisture. Finally, store in a dry area."


- Timothy Mostert, Outdoor Warehouse Store Expert



5 simple tips for mastering your potjiekos

Always layer your ingredients. Make sure to add the meat first, after frying the spices in oil. Then add the rest of the ingredients according to cooking time - the longer the cooking time, the earlier it goes in.


For most dishes, it is best to try and not open the lid often - especially during the first portion of your cooking time. The lid helps keep the pressure and heat regulated so that your flavours and ingredients can develop and cook down just right. If there is too much liquid towards the end, it is advised to leave the lid off and let the excess moisture cook down until you get the perfect thickness you want.


Don't stir the potjie, it affects the flavours' natural stewing process. Consider opting for a Potjie Perculator that distributes liquid evenly, cooks faster and rules out stirring:


Use large chunks or vegetables when cooking your potjie, as smaller cuts of vegetables will cook down and disappear into the gravy! If you are adding vegetables that do not need to be cooked for long - rather add these towards the end.


Make sure the fire is small, yet effective. And the coals should preferably not be placed directly underneath, but rather on the outside of the potjie's legs. Too much heat will certainly burn the food.

The perfect potjiekos recipes always require lots of practice and knowing your cooking tools well. If you care for your potjie well you should be able to have many years to practice and perfect your recipes - as well as developing a unique and rich flavour in your pot - which is what makes this local classic such an amazing addition to any outdoor cooking and braais!



Cooking time and pressure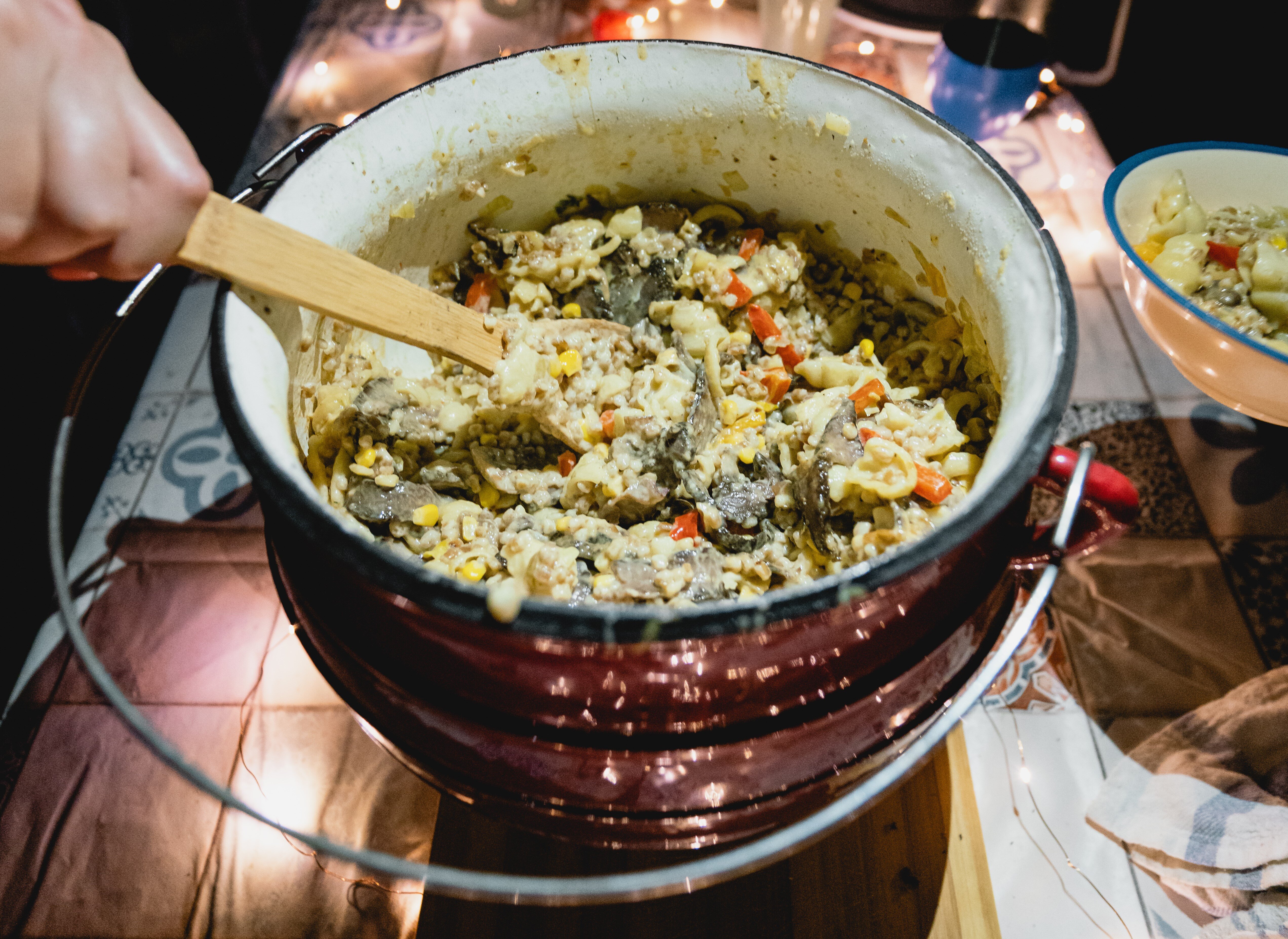 The best part about a potjie is that it allows you to cook your meals for very long times as they can withstand heat extremely well. The lids provide the perfect cooking pressure to allow your food to slowly cook without burning.
Because they are such great tools for cooking dishes slowly over a long time - this means you can do all the prep and work early and have more time to enjoy with your family and friends around the campfire, while not burning your food or starting the braai late (which is quite common as many South African's will know!)

Pro tip: Make sure your potjiekos meal always has enough liquid while cooking as you can easily ruin a delicious dish by leaving it for too long without enough liquid. Don't forget to use a potjie lid-lifter or potjie pal as you can easily burn yourself as the lid handle reaches very high temperatures!
Potjies are perfect for preparing hearty, delicious meals - which can combine different types of meat and vegetables into one single dish that can feed lots of guests easily. Because they are so versatile with many different uses - potjies are ideal for getting creative with your cooking or using up whatever spare ingredients you may have on hand.

They are the perfect cooking utensil for ingredients that require a long time to cook - such as oxtail, lamb knuckles, large chunky veg or any cheaper cuts of meat that have bones and marrow which need time to cook down and develop rich flavours.

Potjies are durable, inexpensive and have so many different uses - which is why they truly are a fantastic investment and camping essential for any avid outdoor adventurer or braai master.